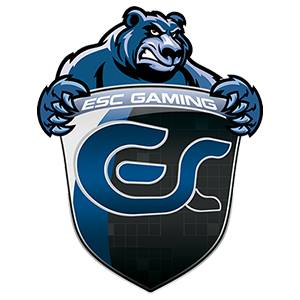 Organizacja
ESC
sta≥a siÍ w Polsce znana kilka lat temu, kiedy przyjÍ≥a pod swoje skrzyd≥a

z≥otĪ piĪtkÍ
, grajĪcĪ - jeszcze wtedy - w CS 1.6. Przez wiele miesiÍcy najlepsza polska druŅyna reprezentowa≥a Niemcůw na najwyŅszym poziomie, ktůrego zwieŮczeniem by≥o zwyciÍstwo na ostatnim majorze starego kantera -
Intel Extreme Masters VI
w 2012 roku.
Po odej∂ciu Polakůw, tag ESC nie by≥ juŅ tak widoczny w turniejach o najwyŅsze trofea, a wygrane puchary by≥y raczej drugoligowe. W miÍdzyczasie przez team przewinĪ≥ siÍ inny polski sk≥ad, czyli

innocent
i spů≥ka, ktůrzy obecnie reprezentujĪ

Gamers2
, oraz DuŮczycy z
Colonem
na czele, ktůrzy wcze∂niej grali w teamie o wdziÍcznej nazwie "
puta
".
WyglĪda jednak na to, Ņe Niemcy majĪ bardzo dobre wspomnienia zwiĪzane ze wspů≥pracĪ z polskimi druŅynami, bo ponownie siÍgajĪ po bia≥o-czerwonych graczy. Od dzi∂
ESC Gaming
reprezentujĪ:
Karol "tecek" KapczyŮski
Karol "repo" Cybulski
Wiktor "mynio" Kruk
Sebastian "NEEX" Trela
Kamil "kamil" KamiŮski
Kim oni sĪ? Dwaj pierwsi, czyli
tecek
i
repo
to w miarÍ znane pseudonimy na polskiej scenie, byli reprezentanci

noMERCY
- czwartej polskiej druŅyny.
NEEX
to zdecydowanie najlepszy zawodnik swojego by≥ego teamu -

ePlay
- z ktůrego jest takŅe
mynio
. Ostatnim graczem jest
kamil
, na rodzimym podwůrku znany z gry w

HyperShots
pod nickiem "
TopSpeed
".
PoniŅej o∂wiadczenie menadŅera druŅyny -
Jakuba Pyszczka
:
"Kolejna polska druŅyna w ESC. Tym razem nie sĪ to zbyt znani zawodnicy, ale majĪ wielkie aspiracje. Gracze otrzymajĪ wsparcie, ktůre pozwoli im powalczyś w przysz≥o∂ci z najlepszymi druŅynami w Europie. To wielki krok dla tych zawodnikůw, ktůrzy sĪ bardzo zmotywowani i zdeterminowani Ņeby zaczĪś odnosiś sukcesy. Nie sĪ znani, jednak damy im szansÍ aby to zmieniś. Jestem przekonany, Ņe w przysz≥o∂ci udowodniĪ na co ich staś, a nam zapewniĪ ∂wietnĪ zabawÍ i okazjÍ do kolejnych dobrych wie∂ci."